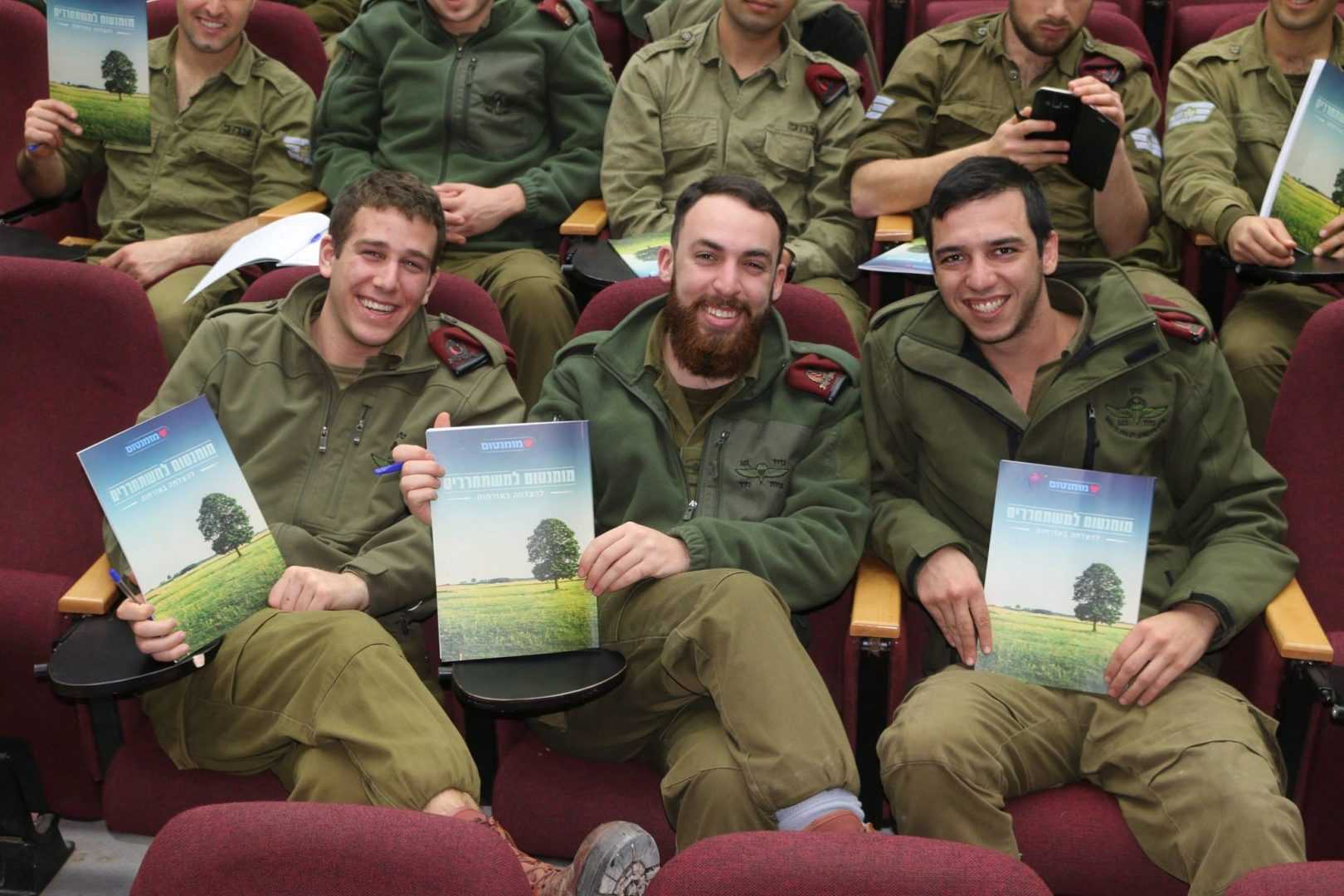 MOMENTUM IN ACTION
OVERVIEW
TARGET POPULATION
RATIONALE
OVERVIEW
Momentum seminars provide a critical bridge between military service and daily life as an Israeli citizen, empowering personal and professional development. Each soldier receives the fundamental tools, skills and information necessary to succeed in civilian life and to embark on their personal journey with self-confidence, a sense of belonging, direction and the ability to identify and develop a career path.
Momentum operates through various frameworks that include:
Empowerment courses for soldiers that take place as the transition to civilian life approaches
Advanced workshops for discharged soldiers
Support and mentoring through social media and other platforms
Thanks to Momentum, thousands of soldiers each year transition into civilian life feeling that their military service was appreciated and valuable and enter Israeli Society as prepared and focused citizens, with the necessary information and tools to realize their goals and their vision for self-actualization.
Target Population:
Momentum currently focuses on a variety of carefully selected target groups. The IDF determines the elite and most deserving soldiers from 70 different units including:
MOMENTUM: EMPOWERING CIVILIAN LIFE:
Combat Soldiers
Combat Support Soldiers
 Intelligence Service
Non-combat soldiers
MOMENTUM FOR LEADERSHIP – Junior level officers and mid level officers to the rank of captain:
These officers have been carefully selected as the best. They have served up to 9 years in the army and currently receive no transition assistance. They have less time to make career decisions. They are the future leaders.
MOMENTUM FOR SUCCESFUL INTEGRATION IN SOCIETY- Special Populations including lower socio-economic groups.
Soldiers participating in Momentum have served up to 9 years in the army and currently receive no assistance with their transition from army to civilian life and have had no time or opportunity to make decisions about their future path and career.
Momentum's assistance and mentoring is critical on an individual level and for Israeli society as a whole.
To date we have run over 400 "Momentum for Citizenship" seminars that reached approximately 15,000 soldiers from a broad spectrum of IDF units.
Rationale:  
Army service is a pivotal element in the formation of young Israelis' character. It affects both their personal and professional development.   It is often only during a Momentum seminar that soldiers begin to appreciate their army service's positive impact and feel appreciated by their commanders and Israeli society.
The lead up to the end of army service is the optimal time to prepare for transition to civilian life, whilst these soldiers are still in the supportive IDF framework.  Once they are discharged, most young people are unlikely to invest their time and money in informed and strategic planning for their future.
Momentum works within the framework of the IDF, through seminars that provide this critical support and training. Each year thousands of young soldiers on the cusp of discharge are mentored through this challenging and confusing transition and are motivated to actively identify relevant employment and Higher Education opportunities and mentored in effective and appropriate decision making. Momentum empowers each individual soldier but the cumulative effect is an enormous impact on Israeli Society as a whole.
Momentum's approach was formulated by some of Israel's leading professionals.
Momentum's conceptual framework:
Understanding Change and Transition: Cognitive, emotional and practical preparation for coping with the challenges involved in this dramatic change including:
Rights and bureaucracy
Responsibilities of citizenship
Navigating financial matters
Planning for the Future:
Formulating a vision
Decision making
Preliminary vocational and Higher Education counseling
Writing a resume
Preparation for job interviews
Use of government services
Referral to support services for discharged soldiers
Positive Thinking:
Identification of the skills acquired during military service and how to implement them in civilian life
Reframing the army experience
The importance of being proactive
The power of positive thinking
Momentum is your expression of gratitude and appreciation for a soldier's service.